"The acting is tremendous, the musicality virtuous, the foley production ridiculous." – Greg Bruce Metro Magazine
The Little Shop of Horrors  opened in May 2015 to excellent critical acclaim (see reviews below). The production significantly ups the danger and excitement of Live Live Cinema by merging the band, Foley and actors into one small ensemble that work together at breakneck pace to create the live soundtrack. Our Audrey is also our pianist, Seymour is on guitar and all other characters are played by our drummer and our bass player. The Foley booth explodes out across the stage with sound effects now being generated by each and every performer. Stars Byron Coll, Barnie Duncan, Laughton Kora and Hayley Sproull.
Little Shop of Horrors has toured extensively in the UK, Ireland, NZ and Australia, including Edinburgh International Film Festival, Barbican London, The Sage Gateshead, Galway Arts Festival and Darwin Festival.
Video
The Little Shop of Horrors  is an engaging feat of brilliant musical and cinematic theatrics celebrating the multiple skills of the live performers as well as the original film (Roger Corman 1960).  Where will you look?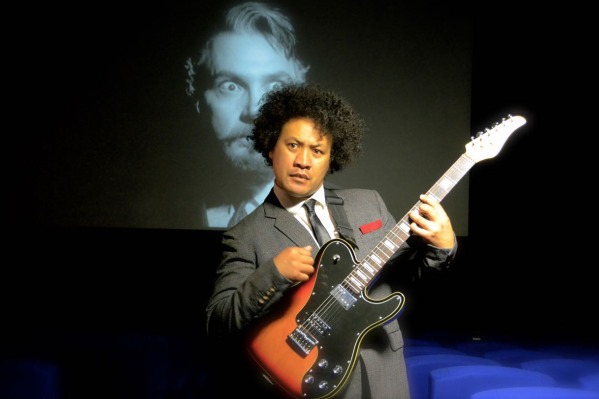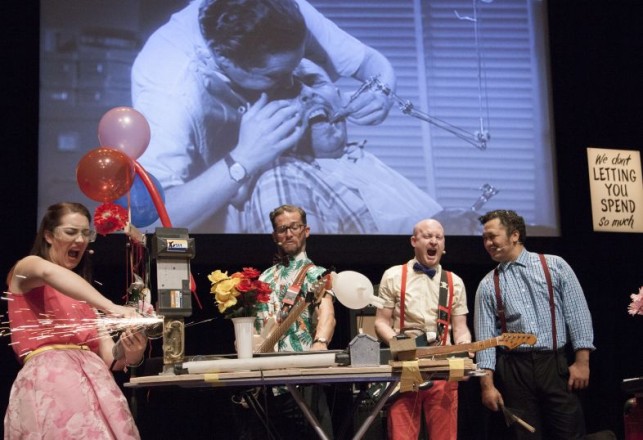 Review - @ Sage Gateshead - Narc.
LIVE LIVE CINEMA'S SPELLBINDING REDUBBING AND ACTING OF THE ORIGINAL "LITTLE SHOP OF HORRORS"  – BY JOE FOWLER 25/6/15
I should admit something. I didn't realise there are two Little Shop of Horrors movies and that this edition of Live Live Cinema featured the older version, filmed in 1960, not the 1986 Rick Moranis one. Interestingly, though, it does feature a cameo appearance from a young looking Jack Nicholson as the masochistic dental patient Wilbur Force…
On to less embarrassing matters… It's not often I am bowled over by something to such an extent that I feel like running home and writing about it, but this was just too stupendously good. The stage was set up with bright and colourful balloons, an array of instruments, things hanging from the ceiling on bits of string, umbrellas, suitcases, buckets and even a bowl of noodles cooking away at the front, not forgetting the giant screen at the rear of the stage. My intrigue was already piqued at the most unusual stage set-up I think I've ever seen.
When the four stars – there is no other way to describe them – appeared on stage they were dressed in equally colourful garb and immediately struck up with some title music. Hayley Sproull began on keys, Byron Coll, who I recognised from the brilliant TV show Top of the Lake, on guitar, Barnie Duncan on bass and star of platinum-selling band Kora, Laughton Kora on drums (although, they swapped instruments as frequently as they swapped voices).
It is incredibly difficult to describe what transpired because so much was happening onstage. Each performer was not only voicing the characters in very believable accents, but also acting the roles with facial expressions and physical movements, while simultaneously remembering to ding the bell when the door opened onscreen (which required jumping up), or create the sound of footsteps across the shop floor. Even the sound of the very odd customer Burson Fouch eating flowers was recreated via the gift of Kellogg's cornflakes.
"THIS TROUPE OF NEW ZEALANDERS HAVE CREATED ONE OF THE MOST INTERESTING AND ENTERTAINING PIECES OF THEATRE I HAVE EVER SEEN"
Their attention to detail was staggering, and the array of props equally so. Their use was often very humorous; a firm slap across the male nipple area representing a handshake was a particular favourite (it was very convincing). It was an interesting touch to make Audrey Jnr, the man-eating plant, Japanese (with some wonderful cries of "feedo me Seymour-san!").
The group weren't helping each other though and were constantly trying to put each other off or hiding the guitar, which just added to the entertainment. They even involved the audience at certain points, making it a 360 degree show.
While the lip-syncing was absolutely spot on, they also took the opportunity to throw in some new dialogue that matched visually but was different to the original script. Seymour's Mum dancing a jig to Beyoncé's Single Ladies and the comment that "you like to poo in your hands and clap" getting some of the biggest laughs from the enthralled audience.
This troupe of New Zealanders have created one of the most interesting and entertaining pieces of theatre I have ever seen. I was left absolutely gobsmacked at the sheer audacity of what they attempted and ultimately pulled off.
Source: http://narcmagazine.com/review-live-live-cinema-sage-gateshead-23-6-15/
Review - The Sage gateshead - Cuckoo Review
SHOW REVIEW: LIVE LIVE CINEMA: THE LITTLE SHOP OF HORRORS @ SAGE GATESHEAD
Review by Jen Szandrowska
What do you get if you cross four musicians, five umbrellas, high-powered tools and a box of cornflakes, a cult movie and a small patch of gravel? Regardless of how many movies you have seen, I highly doubt you have experienced anything quite like Live Live Cinema.
Upon finding out that four people were going to recreate the sound for The Little Shop of Horrors, I'll admit I was sceptical. While it would be impressive, I didn't imagine there would be much room for entertainment, as it wouldn't be much different from watching the film at home. What I did not realise was that, when they said "sound", they meant all of it. Every single sound effect was recreated, as well as music and speech. The four people on stage were suddenly a shop full of characters – an elderly lady and then a schoolgirl, mere breaths apart. It was more than just speaking a film's lines that truly made the show. It was a guitarist's race to reach the bicycle bell before the shop door opened and the rush to return to the piano before the scene changed. It was amazingly synchronised with the film on screen, and the seamless swapping of accents and instruments meant that the audience was engaged the whole time.
When the audience wasn't in awe at the speed the players were moving, they were hoping that the performers would reach their next prop in time, amazed at the attention to detail (anything as small as a character shifting in their chair was deemed worthy of a part). The entire show must have been meticulously planned, and the performers were comfortable with it. Whether they were eating cereal or wielding power tools, the audience could tell that the people on stage were enjoying it just as much as they were.
All in all, it was a thoroughly enjoyable show. So, whether you're an old fan of Little Shop of Horrors or you've never seen the movie before, Live Live Cinema is definitely highly recommended.
Source: http://review.cuckoowriters.com/show-review-live-live-cinema-the-little-shop-of-horrors-sage-gateshead/
Review @ The Barbican, London - Exposure
Culture > Film & live audio review: Little Shop Of Horrors
Posted on July 23, 2015
Joe Marshall experiences madcap film horror… with live sound
A bloodthirsty, mutant plant is eating the citizens of Los Angeles's Skid Row. The charmingly simple shop assistant Seymour is roped into feeding it in secret, to satisfy his money grabbing boss. This is the basic premise of classic 1960 comedy horror Little Shop of Horrors. As if that wasn't thrilling enough, Live Live Cinema got ahold of it and have taken it to another level of complexity and excitement. In a screening at the Barbican, performers delivered the voices, sound effects and score live. Only four people took to the stage beneath the screen in what was a tremendous spectacle of both cinema and human endeavour.
A bloodthirsty, mutant plant is eating the citizens of Skid Row
The musicians / voice actors / sound effects artists flawlessly recreated every iota of original audio from the legendary B-movie. Part of their rehearsal process was to watch the DVD, over and over again, until they were familiar with every footstep, inflection of speech and nuance of guitar playing. At times it seemed each performer was doing three things at once. The music was beautiful. As a newbie to Little Shop, I didn't want the performance to end. The voices perfectly encapsulated the characters and the effects were ingenious. A buzz saw served as a dentist's drill. The munching of cornflakes stood in for someone eating a flower.
It was a really funny production. The people behind it poked light fun at what is already a comical film. They were confident enough to add their own jokes, impressively making it look as though the original cast were saying things they were not.
A young Jack Nicholson appears to say: "Here's Johnny!". I got the impression the performers were sending up the rest of the dialogue too by using slightly caricatured manners of speech. The biggest laugh came when a popping noise was made by sticking a plunger to the bald head of one of the players, and then pulling it off.
Having been to such a hugely entertaining screening, I am now a Little Shop of Horrors fan. This modern take on a black and white classic would be well suited to someone familiar with the masterpiece too. The only problem is trying to split your concentration between the film on screen and the hyperactivity beneath it. As Live Live Cinema's slogan goes, "Where will you look?"
Source: http://exposure.org.uk/2015/07/filmtheatre-review-little-shop-of-horrors/
Review - Christchurch Arts Festival, Isaac Theatre Royal - Theatreview
LIVE LIVE CINEMA: LITTLE SHOP OF HORRORS
Created and Composed by Leon Radojkovic
Directed by Oliver Driver
Presented by Jumpboard Productions
at Isaac Theatre Royal, Christchurch
13 Sep 2015
Reviewed by Erin Harrington, 14 Sep 2015
Cult indie director Roger Corman's 1960 horror-comedy film Little Shop of Horrors is camp, comic and macabre. It's a pity that it's best known now as the precursor to the 1982 Menken and Ashman comedy-musical of the same name because it's a terrific little film in its own right.
Set in Los Angeles' Skid Row, it follows a gormless and love-stricken florist's assistant as he hybridises then rears a sentient blood-thirsty carnivorous plant that brings fame to the flower shop but chomps its way through all and sundry in the process. Live Live Cinema has ripped the sonic guts out of it, so while the (silent) film is projected onto a large screen at the rear of the stage of the Isaac Theatre Royal, the soundtrack is generated, at blistering speed, live in front of us.
Performers Laughton Kora, Byron Coll, Hayley Sproull and Tom Knowles provide everything: instrumental music (surf rock goes spooky), vocal overdubbing (sharp), sound effects from an eclectic and colourful array of props (outrageous), and general whizzbangery (kapow). It's an extraordinary performance, like a ghoulish aural Rube Goldberg machine, all delivered with relentless energy and manic glee.
Given that they're racing around the stage, swapping instruments and throwing things about, all up doing the work of fifteen people (and amazingly at that), I hope they're getting paid well.
The artists' impressive 'in text' delivery sits within their high-energy meta-performance, as they inhabit their overblown characters, knock props out of each other's way, muck about with their lines and set up elaborate visual gags.
It's impossible to know where to look. I can't help but try to reverse engineer the devising and rehearsal process, and it makes me feel like I need a cup of tea and a sit down in a cool dark room.
Show creator and composer Leon Radojkovic, and director Oliver Driver, along with their production and design team, have created something very special with this show. Yes, it's bloody good fun, but even the smallest peek under the hood (or inside the giant carnivorous plant) shows that it's been impeccably crafted, from the choice of props, to the composition of the music, to the visual and sound design. All the elements cohere into a thrilling whole that looks (deceptively) like a hot mess and sounds like a dream.
This is a rare show that leaves the audience wanting another go around, if only to catch up on the things they missed the first time round.
Source: http://www.theatreview.org.nz/reviews/review.php?id=8477
Review Herald Theatre Auckland - Metro Magazine
Live Live Cinema: Little Shop of Horrors – review
By Greg Bruce @ByGregBruce· gregbruce.tumblr.com · On May 15, 2015
Live Live Cinema – Little Shop of Horrors
Herald Theatre
The first thing you notice on walking into the Herald Theatre's egregiously steep-banked auditorium for Live Live Cinema's Little Shop of Horrors is the sheer quantity of stuff on the stage. It's overwhelming and, you imagine, not necessary. You hypothesise that they can't possibly need – to take a fractional but representative sample – a working hotplate, a packet of noodles, an angle grinder. And your hypothesis is right: they don't need them.
The whole thing is an exercise in the unnecessary. The whole thing is, to some extent, an extended cruel joke played on the four performers who provide the voices, play all the music and produce all the sound effects while the 1960 film of Little Shop of Horrors plays silently on the big screen above them. As leading Japanese game show producers have long known, in great suffering is great pleasure.
The acting is tremendous, the musicality virtuous, the foley production ridiculous.
The film being performed has been carefully selected to require zero audience concentration, so your focus can be mostly on the madcap antics of the performers rushing as silently as possible around the stage hitting stuff, desperately throwing props at other props, cooking, grinding, pumping and popping while playing guitars, keyboards, drums and voicing all the characters.
The chances of them doing it without incident are zero.
It's dense with incident: so dense that it's impossible to see everything that's going on. Sometimes you'll hear others in the audience laugh and you'll look over to see something or someone hitting the ground, or you'll see the dying sparks of a grinding incident, or you'll notice the performers smiling naughtily at each other and you'll wish you could come back again the next night and see what you missed.
But even if you see it a second time, you'll realise how much you missed the first time, so maybe you'll think, 'Just one more time to clear things up.' You only have until May 24 to do all this, but nobody would think it a terrible decision.
Live Live Cinema – Little Shop of Horrors: Until May 24. aucklandlive.co.nz
Source: http://www.metromag.co.nz/culture/comedy/live-live-cinema-little-shop-of-horrors-review/
Review Herald Theatre Auckland - New Zealand Herald
Until now, the 1960 movie version of Little Shop of Horrors was known for three things: being shot in just two days on left-over sets, Jack Nicholson's first screen appearance, and spawning the Broadway musical turned saccharine-coated oddball 1980s film.
Now the original light-black comedy – which never took itself seriously – will also be known for cornflakes that sound like carnations, toilet plungers worn as headgear and a rendition of Poi E by Seymour's hypochondriac mother.
The ridiculous jokes on screen (banana peel slips! cod liver soup!) are matched by merry mayhem off screen, so that you want to look five places at once and you lose any notion of where the noise is coming from.
Creator/composer Leon Radojkovic and director Oliver Driver have used their successful Live Live Cinema format for four years, but this time they ratchet up the madcap: the live music, dialogue and foley sound effects are all produced by a cast of only four.
We enjoy their own enjoyment as they amp up the camp, racing around like headless chooks in 1960s bow ties hitting, winding, stomping and popping on various items to create noise.
Their hullabaloo – designed by Gareth Van Niekerk – seems miraculously in synch with the screen action, apart from when, hilariously, it's not.
Radojkovic's music is nicely-paced with a touch of comedy-horror weird, although its volume occasionally drowns out conversations and Audrey-the-plant's eating noises.
Audrey herself (seemingly made from twine, paper and velour) offers a small amusing twist near the end. Spotting differences from the 1980s version is fun – but you don't need to know any version to relish this one.
Recommended.
What: Live Live Cinema: Little Shop of Horrors
Where: Herald Theatre, Aotea Centre
When: To May 24
Source – http://www.nzherald.co.nz/entertainment/news/article.cfm?c_id=1501119&objectid=11449101
Review Herald Theatre Auckland - KEEPINGUPWITHNZ.com
Apparently the previous Live Live Cinema performances were too easy!
Leon Radojkovic and Oliver Driver are back to present another 4-D movie, this time tackling Roger Corman's 1960 horror-comedy Little Shop of Horrors. As with their previous productions, all dialogue, music and sound effects are created live in the theatre. This time however, rather than using separate teams of actors, musicians and Foley artists, everything is handled by just a group of four. Byron Coll, Barnie Duncan, Laughton Kora and Hayley Sproull. They play the score, create the sounds and dub the voices. All at once.
The stage is littered with props – balloons, stoves, umbrellas, corn flakes and bells that hang from the ceiling. It's not unusual for the cast to run from one side of the stage to another, in the middle of playing an instrument and voice one of their half dozen characters, to bang the right pot at the right time.
The performers frequently are forced to swap positions and instruments, and all do so without ever seeming nervous of worried. They appear at all times to be genuinely having fun – the jokes result in laughter from the audience, the mistakes in laughter from the cast. It's a thrill to watch.
The chaos of it all can admittedly be overwhelming at times. This show is busy, with cast members darting around the stage, props flying, all beneath a projected Corman classic. I'd be lying if I said it didn't take me a scene or two just figure out just how I'm supposed to be watching. Attempting to follow the film at the wrong time can mean missing hilarious details onstage. Even then, you risk watching the wrong performer. But if you're here to try and watch Little Shop of Horrors for the plot, you're probably missing the point – and I shouldn't complain about having too many entertaining people to watch.
See Live Live Cinema: Little Shop of Horrors in Auckland at the Herald Theatre from the 13-24May.
Reviewed by Liam Golds.
Source: http://keepingupwithnz.com/2015/05/15/live-live-cinema-review/?utm_content=buffer86943&utm_medium=social&utm_source=twitter.com&utm_campaign=buffer
Review Herald Theatre Auckland - Theatreview
| | |
| --- | --- |
| TRANS-DIMENSIONAL MULTI-TASKING MARVEL | |
LIVE LIVE CINEMA: LITTLE SHOP OF HORRORS
Created and Composed by Leon Radojkovic
Directed by Oliver Driver
Presented by Jumpboard Productions in association with Auckland Liveat Herald Theatre, Aotea Centre, Auckland LIVE, Auckland
Until 24 May 2015Reviewed by Nik Smythe, 16 May 2015
Auckland Live's latest Live Live Cinema event takes the concept devised in their previous works Carnival of Souls and Dementia 13 and ups the ante to a hysterical degree with their latest offering.  The former productions featured a live band, foley artist and voice talent performing the entire visually-projected film soundtrack live as though in studio, and the effect was impressively entertaining.
For their execution of Roger Corman's original 1960 b-grade comedy-horror classic Little Shop of Horrors, director Oliver Driver saves on budget by having the voice talent double as the incidental musicians delivering composer Leon Radojkovic's exemplary score, and triple as the SFX artists as per foley designer Gareth Van Niekirk.  Words can't hope to describe the delightful mayhem brought about by this arrangement.
Rather than recreate a more authentic sound-studio setting, the live cast plays the whole thing out upon a colourfully cluttered stage strewn with buckets, instruments, toys, gizmos and gadgets, food items, mics, amps and other appliances, along with story-related props such as flowers and shop signage to keep them in the mood.  I'm personally impressed by the way the various overhead string/pulley systems throw shadows onto the screen to resemble olde film-projector type scratch marks, intentionally or not.
Whatever the cause, the players certainly are into it, in high gear from the opening frame, charging about in their bright 60s-era duds, bashing out thematic refrains on their guitars keys and drums, whacking, twisting, squeezing and slurping et cetera into the mics as required, and of course voicing the diverse assortment of comedic personae, with admirable lip-synching ability under the circumstances.
Among each of their numerous vocal roles, Byron Coll takes the lead as Seymour, the hapless loser who works for long-suffering florist Mr Mushnick (voiced by Laughton Kora) alongside his sweet, pretty muse and love interest Audrey (Hayley Sproull) on LA's Skid Row.
Barnie Duncan's featured turns include the flower-chomping customer, immortalised in the picture by screen character legend Dick Miller, as well as Jack Nicholson's famously quirky first-ever screen role as the friendly pain-addict.  My friend reckons he missed a trick in not playing him as an obvious Nicholson caricature, given what a favourite he is for impressionists the world over.  I wonder whether they might have deemed that idea just one focus-pulling step too far?
The distinctive villain of the piece is the carnivorous venus-flytrap type hybrid (cultivated and named Audrey Junior by Seymour) which reverses the plight of the shop's failing business. As the plant continually increases in size, it's played alternately by Sproull, Kora and Duncan with a broad – some might say gratuitous – Japanese accent, presumably as Seymour claims he obtained the original bulb from a Japanese gardener.
So much entertainment is derived from so many ingenious audio solutions, including sink-plungers stuck to a certain actor's hairless pate, and noodles cooked live on stage!  The gifted, skilful players are supportive and accommodating of one another as they weave about the stage fulfilling their myriad sonic functions, but are not above corpsing themselves and/or their cast-mates with occasional cheeky off-script dialogue variations, or sabotaging eachother's efforts as with the shop's doorbell bell dangling centre stage.
Besides the multi-tasking marvel aspect, this Live Live Cinema season differs from its predecessors in that the film's comedy is intentional, not accidental, and it's somewhat less obscure, largely due of course to the smash-hit stage musical and Frank Oz-directed 1986 movie.  Being comparatively well-known is probably helpful, given the relentless attention-stealing on-stage antics.
Suffice to say the production's tagline "where you gonna look?" is especially pertinent; for every gag I caught there must be two or three I missed.  Not to imply any sense of deprivation, though it's tempting to book a seat for a repeat viewing.
Source: http://www.theatreview.org.nz/reviews/review.php?id=8179
_______________________________
Audience Reaction in Galway Ireland – July 2015
LISTEN! BBC Radio 4's The Film Programme feature Live Live Cinema live in studio recorded 16 June 2015
Leon Radojkovic and Oliver Driver discuss the intention behind the show – October 2014
Creative Team
Creator / Composer Leon Radojkovic
Director Oliver Driver
Creative Producer Phil Evans – Jumpboard Productions
AWARD! – Award of Excellence, 2015 Auckland Theatre awards
Production Information
Live Live Cinema: all audio is produced live on stage below the projected film.
Touring party of 7
Full technical specification available on request
Film Partner – Legend Films